Libertex is once again consecrated as the best platform and broker of 2020
With more than 20 years in the market Libertex continues to be updated and leading the trading market.
It is difficult to find the perfect recipe to become again the best platform and broker of 2020, but Libertex is close to perfection, an authorized and regulated broker with a simple and convenient platform that has currently made it worthy of more than 40 international awards. In this article we will explain in more detail what made it named by FX Report and EUROPEANCEO, as the best this year.
First it is important to mention that Libertex offers a fast registration, unlike other platforms that in this process take hours or days, and to complete it you will only need your email and a password to create an account.
Now let's talk about the trading instruments that the platform offers. You can find more than 250 instruments offered by Liberertex shares(stocks), cryptocurrencies, currencies, metals, agriculture, oil and gas, indices and ETFs. Traders have access to global and diverse markets, in different industries around the world.
In addition to the full range of investment options, Libertex offers a number of tools to achieve successful trading. For beginners when opening an account it offers the option of using a 50K risk-free Demo account, a Libertex app test to practice before moving on to the real account, but what if you still don't know how to trade? don't worry! Libertex provides its users with education through video lessons, updated information in its company news section, and also has 5 days a week, from 9am till 9pm customer support service via messages through different applications such as Telegram or Whatsapp.
Once you have opened a trade, you can control Libertex and your operations with their risk management tools, such as Stop-Lose and Take profit, which helps to keep control of the trade within the ranges set by the users and allows them to reduce losses or increase profits, thus reducing the risk of every operation, which is extremely important when you're trading. Libertex also provides trading signals, these signals are push-notifications with updates sent daily to your account with the latest market trends, these signals help traders to make better decisions based on market movements.
Libertex additionally offers Leverage, it is one of the most attractive features for traders, because it allows you to trade with a higher volume of amount than you actually have in your account, with a higher Leverage, less amount you need to open bigger trades and get with this, higher profits, you will have access to leverage of up to 1:30 for Retail Clients and up to 1:600 for Professional Clients.
If we talk about trading conditions, the cost Libertex offers are among the best in the market, since it only charges commissions for trading, no spreads are charged.  In relation to the Libertex fees, it does not charge maintenance for the account and it does not have hidden commissions.
Deposits and withdrawals are also an important feature when choosing a platform and Libertex offers its clients a variety of options for this, you can find complete information on Libertex payment methods at the following link, In addition, Libertex offers up to 50% per deposit for those who want to add funds to their account and 50% commission discount for new traders. Without leaving aside security, Libertex has the highest security standards which allow you to deposit and withdraw funds within the platform with the most advanced security protocols in the market.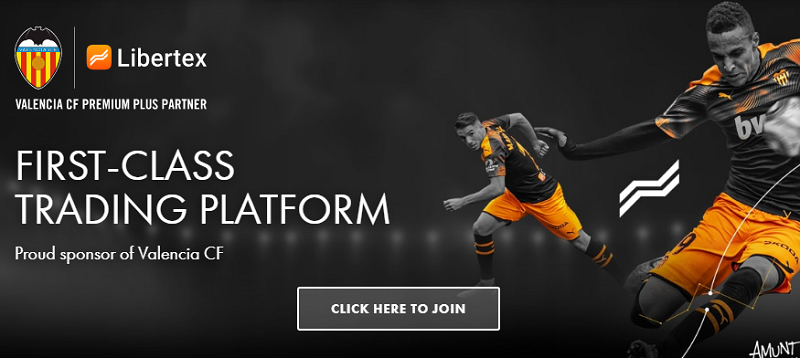 Libertex is proud to be the Premium Plus Partner of two emblematic football teams of La Liga, one of them is Valencia CF. Thanks to this sponsorship all Libertex clients and have access to contests that take them to live VIP Libertex experiences in Spain, all-paid trips and stays, first-class restaurants, tickets with exclusive spots to watch the games, meet & greet with first-team players, autographed merchandising such as balls, shirts and much more.
And finally another important feature that we can highlight about Libertex is that it is a cross-device platform that allows traders to trade from their tablet, mobile or pc, and keep control of their operations from any place at any time. You can access the platform directly at www.liberx.com (web-app) or by downloading the Libertex app from Google Play or Apple Store. Without a doubt Libertex is one of the most reliable and complete options available in the market and for what it has demonstrated over the years it will continue to keep us updated with the latest news and features that will help everyone trade simply and successfully. We strongly recommend that you make the Libertex test and see for yourself all the benefits and tools that it has to offer.
Start your trading career with Libertex today!
---